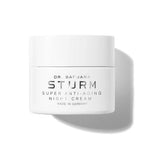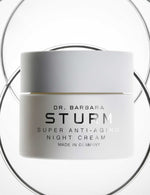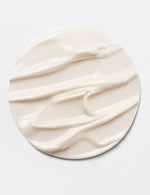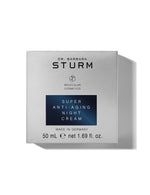 SUPER ANTI-AGING NIGHT CREAM
Dr. Barbara Sturm's SUPER ANTI-AGING NIGHT CREAM optimally supports the skin's nocturnal renewal processes so you wake with a fresher, plumper and dewier complexion.
DESCRIPTION
• Dr. Barbara Sturm announces the launch of the newest addition to her high performance SUPER ANTI-AGING COLLECTION, and the companion to her bestselling NIGHT SERUM, the SUPER ANTI-AGING NIGHT CREAM.
• Whilst we're sleeping, the skin moves from protect to repair mode: essential hormones such as Melatonin and HGH start to rise and accelerate skin's repair and cell regeneration helping the body to detoxify from excess metabolic and oxidative damage and to fight off free radicals, whilst preventing further damage (such as wrinkles, lines and hyperpigmentation) from occurring.
• Dr. Sturm's SUPER ANTI-AGING NIGHT CREAM optimizes the skin's detox processes with a special peptide from the Avocado which helps eliminate oxidized protein and helps the body regenerate proteins, lipids, and cells that have been damaged during the day due to free radical oxidation.
• Purslane, an anti-aging, anti-inflammatory powerhouse, which is a key ingredient in Dr. Sturm's skincare, and Vitamin E, whose antioxidant properties may be effective at reducing UV damage in skin.
• The formulation also includes Nonapeptide-1, which has been shown to activate and strengthen the skin's microcirculation, helping skin shift quickly from repair to protect mode.
• When applied at night, the SUPER ANTI-AGING NIGHT CREAM works whilst you sleep for a noticeably rested, refreshed, and smoother-looking complexion by morning.
KEY BENEFITS
Hydrates the surface of the skin, preventing transepidermal water loss for an instant, plumping effect. Boosts detoxification so that the skin can concentrate its efforts on repair and rejuvenation. Stimulates collagen production and strengthens the skin's microcirculation, helping skin shift quickly from repair to protect mode. Strengthens the skin's natural barrier function and provides intensive hydration at both superficial and deeper skin layers Improves skin elasticity and reduces the appearance of fine lines and wrinkles for a plumper, dewier complexion.
HOW TO USE
Apply to the face and neck in the evening. For enhanced results, use in tandem with the NIGHT SERUM and GOOD NIGHT supplements. Suitable for all skin types.
ACTIVE INGREDIENTS
Polyglutamic Acid, Avocado Extract, Nonapetide-1, Hyaluronic Acid, Purslane, Vitamin E, Panthenol, Glycerine, Argan Oil, Sweet Almond Oil, Sunflower Oil
HAVE A QUESTION? CONTACT US HERE
COMPLETE THE STURMGLOW
ADDITIONAL PRODUCTS TO COMPLIMENT YOUR ROUTINE
SUSTAINABILITY NOTE
The Dr. Barbara Sturm ethos includes a sense of permanent responsibility to produce and package sustainably. As part of our ongoing efforts to contribute to a more sustainable future, we have significantly reduced the amount of packaging for our products and use recyclable paper and cardboard for product leaflets and boxes. We are changing our plastic jars to recyclable glass, using sustainable cotton and velvet bags rather than plastic and are phasing out our cellophane wrappers.
SHIPPING & RETURNS
We are offering free local delivery within Singapore via courier for our valued customers and partners for any orders above SGD 100. For orders below SGD 100, shipping fee is SGD 6.50 (by courier).
STURM SERVICE TEAM
Our friendly customer service team can help you with tracking your order, ingredient advice, skincare queries and shipping and returns. If you have a question, please get in touch, our team are here to help. Please contact us at
contact@sg.drsturm.com
.