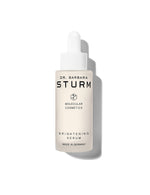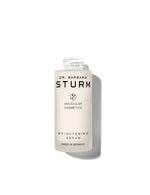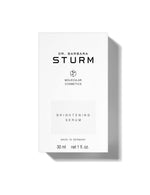 BRIGHTENING SERUM
The BRIGHTENING SERUM gives the complexion an instant glow while reducing uneven skin tone. A special extract of Cress Sprouts helps brighten the skin. Ginseng Extract supports the skin's protection against free radicals, environmental stress, while Hyaluronic Acid fundamentally hydrates the skin and replenishes moisture reservoirs. Allantoin adds a soothing and calming effect. The serum refines skin tone and texture using natural brightening ingredients.
BENEFITS
Gives the complexion a more even glow
Reduces visible signs of pigmentation
Cress Sprouts extract helps brighten the skin and diminish uneven skin tone
Ginseng Extract supports the skin's protection against free radicals and environmental stress
Hyaluronic Acid hydrates the skin
Allantoin has a soothing and calming effect
Refines skin tone and texture using natural brightening ingredients
HOW TO USE
Pour one pipette length of the serum into the palm of your hand and apply it over your face. Gently pat into your skin. Follow with your moisturizer. Note: In the morning, also use a cream with SPF protection such as Dr. Barbara Sturm's SUN DROPS, to help prevent the formation of dark spots. Be careful not overexpose yourself to the sun's damaging rays.
ACTIVE INGREDIENTS
Garden Cress Extract, Ginseng, Soy Isoflavones, Purslane Extract, Panthenol, Silica, Rice Starch, Allantoin, Hyaluronic Acid, Glycerine, Exopolysaccharides, Optical Pigments (Iron Oxide, Titanium Oxide)
DR STURM'S NOTES
"This gentle line instantly brightens your skin, combatting lackluster and uneven complexions while providing a cocktail of nourishing and skin matrix-boosting ingredients."– DR. BARBARA STURM
HAVE A QUESTION? CONTACT US HERE
COMPLETE THE STURMGLOW
ADDITIONAL PRODUCTS TO COMPLIMENT YOUR ROUTINE
SUSTAINABILITY NOTE
The Dr. Barbara Sturm ethos includes a sense of permanent responsibility to produce and package sustainably. As part of our ongoing efforts to contribute to a more sustainable future, we have significantly reduced the amount of packaging for our products and use recyclable paper and cardboard for product leaflets and boxes. We are changing our plastic jars to recyclable glass, using sustainable cotton and velvet bags rather than plastic and are phasing out our cellophane wrappers.
SHIPPING & RETURNS
We are offering free local delivery within Singapore via courier for our valued customers and partners for any orders above SGD 100. For orders below SGD 100, shipping fee is SGD 6.50 (by courier).
STURM SERVICE TEAM
Our friendly customer service team can help you with tracking your order, ingredient advice, skincare queries and shipping and returns. If you have a question, please get in touch, our team are here to help. Please contact us at
contact@sg.drsturm.com
.