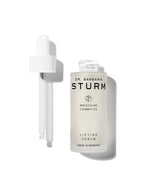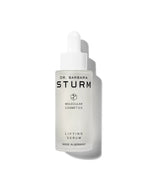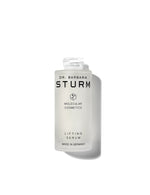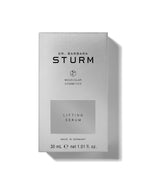 LIFTING SERUM
The innovative ingredient science in the LIFTING SERUM visibly lifts skin instantly and reduces the appearance of the visible signs of aging. Immediately after applying, the LIFTING SERUM acts to smooth the skin's surface texture for a more refined and even-looking complexion. Use this ground-breaking product before an event for a noticeably lifted appearance and an instant reduction in the appearance of fine lines and wrinkles. The serum works in two ways. First, its intense and immediate lifting effect physically elevates the skin; a formula of Biopolymers creates a long-lasting, weightless film on the skin's surface that promotes firmness and stability and visibly reduces the appearance of wrinkles. The lift lasts several hours. Secondly Microalgae Extract plumps wrinkles and supports collagen and elastin. The serum provides enhanced firmness and elasticity which lasts as long as the serum remains on the skin. Use this ground-breaking product before an event for a noticeably lifted appearance and an instant reduction in the appearance of fine lines and wrinkles
BENEFITS
Continuous use provides an instantly noticeable and long-lasting tightening effect
Smooths out the appearance of various types of wrinkles
Increases firmness and elasticity of the skin
Continuous use provides the skin with immediate and long-term suppleness
Purslane is rich in valuable antioxidants, energizes the skin's own antioxidant system and protects the sensitive membranes against attack from free radicals, reducing the visible signs of premature aging on the skin
HOW TO USE
The product should be used as a last step in the skincare regime. Pour one pipette length of the serum into the palm of your hand and apply it over your face. Gently pat into your skin. Please allow 5 minutes for the serum to fully absorb into the skin, before applying makeup. Please also note that the product may leave a sensation of tightness due to the tension created by the lifting effect. We recommend using in the morning or before a special event.
ACTIVE INGREDIENTS
Purslane Extract, Complex of Cellulose, Pullulan, Red Algae, Hyaluronic Acid, Plankton, Beta-Glucan
DR STURM'S NOTES
"In my aesthetic medical clinic, I specialize in non-surgical interventions to lift the skin matrix. I created my LIFTING SERUM for those who want an at-home option to generate a healthy, lifting effect. My LIFTING SERUM is perfect for events or special occasions, where you want to boost your own look for a few hours." – DR. BARBARA STURM
HAVE A QUESTION? CONTACT US HERE
COMPLETE THE STURMGLOW
ADDITIONAL PRODUCTS TO COMPLIMENT YOUR ROUTINE
SUSTAINABILITY NOTE
The Dr. Barbara Sturm ethos includes a sense of permanent responsibility to produce and package sustainably. As part of our ongoing efforts to contribute to a more sustainable future, we have significantly reduced the amount of packaging for our products and use recyclable paper and cardboard for product leaflets and boxes. We are changing our plastic jars to recyclable glass, using sustainable cotton and velvet bags rather than plastic and are phasing out our cellophane wrappers.
SHIPPING & RETURNS
We are offering free local delivery within Singapore via courier for our valued customers and partners for any orders above SGD 100. For orders below SGD 100, shipping fee is SGD 6.50 (by courier).
STURM SERVICE TEAM
Our friendly customer service team can help you with tracking your order, ingredient advice, skincare queries and shipping and returns. If you have a question, please get in touch, our team are here to help. Please contact us at
contact@sg.drsturm.com
.