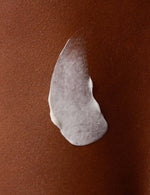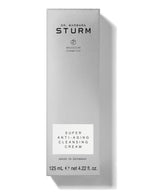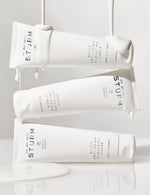 SUPER ANTI-AGING CLEANSING CREAM
Dr. Sturm's SUPER ANTI-AGING CLEANSING CREAM is a potent addition to Dr. Sturm's existing cleansing line, offering a richer, more nourishing formulation that's ideal for mature and dry skin or colder weather.
BENEFITS
• Enhances hydration levels and nourishes the skin with super anti-aging actives.
• Removes all make-up whilst protecting the skin's delicate pH.
• Provides anti-pollution protection and encourages the removal of fine dust particles.
• Supports the regeneration of the skin barrier.
HOW TO USE
For heavy make-up removal, apply a hazelnut-sized amount of the cleanser to dry skin, massaging gently. Add lukewarm water until a milky emulsion forms, then rinse thoroughly. For lighter make-up removal and daily cleansing, wet the skin first before application.
ACTIVE INGREDIENTS
Mild Tensides, Glycans, Illipe Butter, Shea Butter, Apricot Kernel Oil, Ceramides, Carbohydrate Complex, Glycerine, Purslane Extract, Panthenol, Vitamin E, Sunflower Oil, Plant Amino Acids (Phyto Collagen), Hyaluronic Acid.
HAVE A QUESTION? CONTACT US HERE
SUSTAINABILITY NOTE
The Dr. Barbara Sturm ethos includes a sense of permanent responsibility to produce and package sustainably. As part of our ongoing efforts to contribute to a more sustainable future, we have significantly reduced the amount of packaging for our products and use recyclable paper and cardboard for product leaflets and boxes. We are changing our plastic jars to recyclable glass, using sustainable cotton and velvet bags rather than plastic and are phasing out our cellophane wrappers.
SHIPPING & RETURNS
We are offering free local delivery within Singapore via courier for our valued customers and partners for any orders above SGD 100. For orders below SGD 100, shipping fee is SGD 6.50 (by courier).
STURM SERVICE TEAM
Our friendly customer service team can help you with tracking your order, ingredient advice, skincare queries and shipping and returns. If you have a question, please get in touch, our team are here to help. Please contact us at
contact@sg.drsturm.com
.