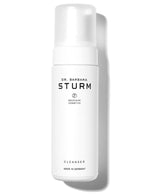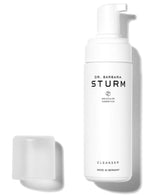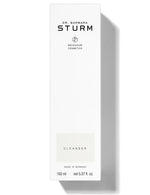 CLEANSER
Thorough cleansing is an essential step of an effective skincare routine. Without it, impurities lodge on and in the skin, and active skincare ingredients cannot be optimally absorbed or used by the skin. This gentle foaming CLEANSER removes complexion makeup and other impurities and prepares your skin for moisturizer or serum, without disturbing the delicate pH-balance or skin barrier function. Containing natural functional ingredients, Purslane calms, soothes and moisturizes, while Aloe Vera helps to repair and rejuvenate the skin.
BENEFITS
• Removes makeup and other impurities
• Prepares skin for moisturizer or serum without disturbing the delicate pH balance or skin barrier function
• Purslane calms soothes and moisturizes
• Aloe Vera repairs and rejuvenates
HOW TO USE
Shake before use. Spray a little foam into your hand and smooth over your face using circular movements. Then rinse off thoroughly with lukewarm water.
ACTIVE INGREDIENTS
Purslane Extract, Urea, Aloe Vera, Panthenol, Mild Tensides, Vitamin E, Glycerine
DR STURM'S NOTES
"Gentle cleansing daily to remove dirt, pollution and other irritation-triggering impurities is important to prepare the skin for skincare absorption."– DR. BARBARA STURM
HAVE A QUESTION? CONTACT US HERE
COMPLETE THE STURMGLOW
ADDITIONAL PRODUCTS TO COMPLIMENT YOUR ROUTINE
SUSTAINABILITY NOTE
The Dr. Barbara Sturm ethos includes a sense of permanent responsibility to produce and package sustainably. As part of our ongoing efforts to contribute to a more sustainable future, we have significantly reduced the amount of packaging for our products and use recyclable paper and cardboard for product leaflets and boxes. We are changing our plastic jars to recyclable glass, using sustainable cotton and velvet bags rather than plastic and are phasing out our cellophane wrappers.
SHIPPING & RETURNS
We are offering free local delivery within Singapore via courier for our valued customers and partners for any orders above SGD 100. For orders below SGD 100, shipping fee is SGD 6.50 (by courier).
STURM SERVICE TEAM
Our friendly customer service team can help you with tracking your order, ingredient advice, skincare queries and shipping and returns. If you have a question, please get in touch, our team are here to help. Please contact us at
contact@sg.drsturm.com
.