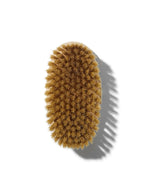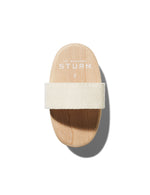 BODY BRUSH
Regular exercise and a healthy diet contribute to smooth and toned skin. When combined with body brushing, it can diminish the appearance of cellulite. Dry brushing the skin before applying ANTI-AGING BODY CREAM are two easy but fundamental steps to keeping your body healthy and glowing year-round. The BODY BRUSH opens your pores, and mechanically boosts your circulation, helping to increase localized blood flow and removal of toxins. Use on dry skin. Available in 2 versions – soft and medium. The soft brush is gentler and more suitable for skin that is sensitive to pressure.
BENEFITS
Natural bristle brush
Helps increase blood circulation and lymph flow to remove toxins from the body
HOW TO USE
Start at your feet and brush upwards with slow clockwise strokes towards the heart.
Legs – work from the front and back of your right foot towards your thigh and then your bottom.
Arms – begin with your right hand and move onto your forearm to reach your lower and upper arm.
Stomach – massage your stomach by starting on the bottom right side and working upwards towards your ribs. We recommend dry brushing 2-3 times per week.
DR STURM'S NOTES
"Dry brushing is a simple step you can take to improving skin health, by exfoliating and mechanically increasing blood circulation and promoting lymph flow/drainage. Dry brushing unclogs pores in the exfoliation process." - DR. BARBARA STURM
HAVE A QUESTION? CONTACT US HERE
COMPLETE THE STURMGLOW
ADDITIONAL PRODUCTS TO COMPLIMENT YOUR ROUTINE
SUSTAINABILITY NOTE
The Dr. Barbara Sturm ethos includes a sense of permanent responsibility to produce and package sustainably. As part of our ongoing efforts to contribute to a more sustainable future, we have significantly reduced the amount of packaging for our products and use recyclable paper and cardboard for product leaflets and boxes. We are changing our plastic jars to recyclable glass, using sustainable cotton and velvet bags rather than plastic and are phasing out our cellophane wrappers.
SHIPPING & RETURNS
We are offering free local delivery within Singapore via courier for our valued customers and partners for any orders above SGD 100. For orders below SGD 100, shipping fee is SGD 6.50 (by courier).
STURM SERVICE TEAM
Our friendly customer service team can help you with tracking your order, ingredient advice, skincare queries and shipping and returns. If you have a question, please get in touch, our team are here to help. Please contact us at
contact@sg.drsturm.com
.