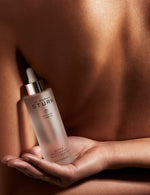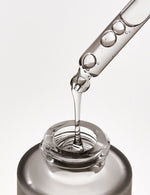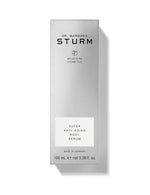 SUPER ANTI-AGING BODY SERUM
The SUPER ANTI-AGING BODY SERUM provides intensive anti-aging, anti-wrinkle and antioxidant benefits for youthful-looking skin from head-to-toe.
BENEFITS
Powerful anti-stretch mark properties: A complex of Lima Bean, Peptides and Bioflavonoids has a protective effect against elastin degradation and supports the synthesis of the skin's fiber network
Prevents premature aging: Glutathione and Purslane are powerful antioxidants which protect skin from external aggressors.
Hydrates and leaves skin super soft: Duo Hyaluronic Acid and Brown Algae Extract immediately provide intensive moisture.
Improves skin elasticity and texture: Brown Algae Extract provides essential nutrients that stimulate natural collagen synthesis.
Gives an immediate glow: Biosaccharides provide additional suppleness and leave the skin fresh, radiant and healthy-looking.
HOW TO USE
Apply all over the body or to areas where extra care is needed and gently massage into the skin in circular motions. Follow with Dr. Sturm's ANTI-AGING BODY CREAM.
ACTIVE INGREDIENTS
SUPER ANTI-AGING BODY SERUM – 100 ML Brown Algae, Hyaluronic Acid, Glutathione, Peptides, Lima Bean, Glycerine, Bioflavonoids, Purslane Extract, Betaine, Panthenol, Biosaccharides.
HAVE A QUESTION? CONTACT US HERE
COMPLETE THE STURMGLOW
ADDITIONAL PRODUCTS TO COMPLIMENT YOUR ROUTINE
SUSTAINABILITY NOTE
The Dr. Barbara Sturm ethos includes a sense of permanent responsibility to produce and package sustainably. As part of our ongoing efforts to contribute to a more sustainable future, we have significantly reduced the amount of packaging for our products and use recyclable paper and cardboard for product leaflets and boxes. We are changing our plastic jars to recyclable glass, using sustainable cotton and velvet bags rather than plastic and are phasing out our cellophane wrappers.
SHIPPING & RETURNS
We are offering free local delivery within Singapore via courier for our valued customers and partners for any orders above SGD 100. For orders below SGD 100, shipping fee is SGD 6.50 (by courier).
STURM SERVICE TEAM
Our friendly customer service team can help you with tracking your order, ingredient advice, skincare queries and shipping and returns. If you have a question, please get in touch, our team are here to help. Please contact us at
contact@sg.drsturm.com
.