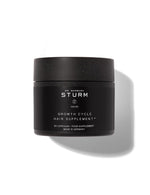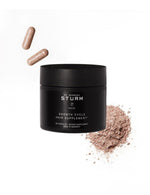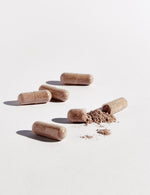 GROWTH CYCLE HAIR SUPPLEMENT
Dr. Barbara Sturm's GROWTH CYCLE HAIR SUPPLEMENT is a molecular science approach to help reduce hair fall for full, healthy-looking hair.

BENEFITS
Supports growth signals from within using the DBS Hair System™️: a powerful nutrient complex containing ingredients which reach the hair roots directly through the bloodstream, penetrating the follicles to promote fuller, healthier hair.
The solution's key ingredient includes Miliacin, a compound extracted from Millet seeds which acts directly on the hair root
Reduce hair fall by up to 50% Increase hair thickness by 20% (*Double-blinded, randomized, placebo controlled clinical study, 60 women, 12 weeks. ) Boost hair shine and vitality in 75% of women*
Includes the essential amino acids, Methionine and Cysteine, which are central building blocks of the structural protein Keratin, through which hair is built and maintained.
Specially selected Vitamins C and D help protect the hair follicle from oxidative stress, whilst Pine Bark Extract and micronutrients such as Biotin and Silica additionally promote the maintenance of silky, glossy hair.
HOW TO USE
Take two capsules a day with a glass of water at meal time, preferably in the morning or during the day. For best results, combine with Dr. Sturm's MOLECULAR HAIR & SCALP ANTI-HAIR FALL COLLECTION.
ACTIVE INGREDIENTS
DBS Hair System™️, Vitamin C containing Acerola Cherry Powder, L-Cysteine, L-Lysine, Silicium containing Bamboo Stem Extract
Proanthocyanidins containing Pine Bark Extract, L-Methionine, L-Glycine, Iron, Pantothenic Acid, Vitamin D, Biotin.
HAVE A QUESTION? CONTACT US HERE
SUSTAINABILITY NOTE
The Dr. Barbara Sturm ethos includes a sense of permanent responsibility to produce and package sustainably. As part of our ongoing efforts to contribute to a more sustainable future, we have significantly reduced the amount of packaging for our products and use recyclable paper and cardboard for product leaflets and boxes. We are changing our plastic jars to recyclable glass, using sustainable cotton and velvet bags rather than plastic and are phasing out our cellophane wrappers.
SHIPPING & RETURNS
We are offering free local delivery within Singapore via courier for our valued customers and partners for any orders above SGD 100. For orders below SGD 100, shipping fee is SGD 6.50 (by courier).
STURM SERVICE TEAM
Our friendly customer service team can help you with tracking your order, ingredient advice, skincare queries and shipping and returns. If you have a question, please get in touch, our team are here to help. Please contact us at
contact@sg.drsturm.com
.