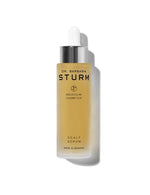 SCALP SERUM
Dr. Barbara Sturm's vitalizing SCALP SERUM contains key ingredients Hyaluronic Acid and Purslane which provide intense hydration, addressing the effects of dryness while boosting overall scalp health, promoting naturally beautiful, shiny hair. An ingredient obtained from the Indian Kino Tree acts as an intensive anti-aging treatment on the scalp. A combination of ATP, Algin and Papaya Extract helps to restore the scalp's moisture balance. Panthenol supplies additional moisture, soothes irritated skin and has a calming effect. Purslane also helps protect the skin against irritation and the damage wrought by free radicals.
BENEFITS
The serum provides intense hydration, boosting overall scalp health.
ATP, Algin and Papaya Extract helps to restore the scalp's moisture balance
Panthenol helps to soothe irritated skin and calms the scalp
HOW TO USE
Using the pipette, trickle the formula directly onto your scalp (on dry or wet hair) and massage in gently. Allow time for the serum to absorb. For best results we recommend using the SCALP SERUM in the evening to optimize scalp health. The SCALP SERUM contains caffeine. For use during pregnancy, please consult your doctor.
ACTIVE INGREDIENTS
Glycerine, Purslane Extract, Panthenol, Arginine, ATP, Caffeine, Hyaluronic Acid, Indian Kinotree Extract, Algin, Papaya Extract, Urea
DR STURM'S NOTES
"The scalp is a large area of overlooked and often mistreated skin. Studies have shown that the condition of the scalp plays a vital part in the production of healthy, strong hair. My SCALP SERUM adds intense hydration and has a calming effect, helping to treat common scalp issues such as dryness and irritation and supporting scalp health for beautiful hair." – DR. BARBARA STURM
HAVE A QUESTION? CONTACT US HERE
COMPLETE THE STURMGLOW
ADDITIONAL PRODUCTS TO COMPLIMENT YOUR ROUTINE
SUSTAINABILITY NOTE
The Dr. Barbara Sturm ethos includes a sense of permanent responsibility to produce and package sustainably. As part of our ongoing efforts to contribute to a more sustainable future, we have significantly reduced the amount of packaging for our products and use recyclable paper and cardboard for product leaflets and boxes. We are changing our plastic jars to recyclable glass, using sustainable cotton and velvet bags rather than plastic and are phasing out our cellophane wrappers.
SHIPPING & RETURNS
We are offering free local delivery within Singapore via courier for our valued customers and partners for any orders above SGD 100. For orders below SGD 100, shipping fee is SGD 6.50 (by courier).
STURM SERVICE TEAM
Our friendly customer service team can help you with tracking your order, ingredient advice, skincare queries and shipping and returns. If you have a question, please get in touch, our team are here to help. Please contact us at
contact@sg.drsturm.com
.